Outfits that can make your pre-wedding look like a movie
What to Wear for Pre Wedding Photoshoot

While they're certain about their wedding outfits and look, one of the most typical queries we get from soon-to-be-weds is "what should we wear for the pre-wedding shoot." And besides, the shoot isn't supposed to be as 'formal' as the wedding as it's supposed to reflect your emotions and portray your love story in its most organic form.

It can be difficult to decide what to wear for your pre-wedding photoshoot. This is fraught with perplexity, from matching attire to themes that reflect the couple's personalities. Your pre-wedding photoshoot could be anything from glitzy to basic, but it's the charming moments that keep the time ticking away. If you ask us, we'd advise you to choose clothes that make you feel and look fantastic and at ease. At the same time, we're at a loss for words when it comes to emphasising the significance of these pre-wedding photoshoot ensembles. Film Sutra is here with a useful list of recommendations that can help you not just look your best but also have fun at your shoot.




Being yourself is all that matters
Note that you'll 'look as you feel,' so the pre-wedding shoot isn't the time to make major changes to your appearance. The photographers and your partner want you to look 'exactly like you,' so go to the salon, get a new outfit, and new shoes, but keep true to yourself. Ensure your dress is comfortable to move in and fits well so you can focus on being natural and taking lovely images with the person you adore! Allow your individuality to shine through and control the mood of the photos!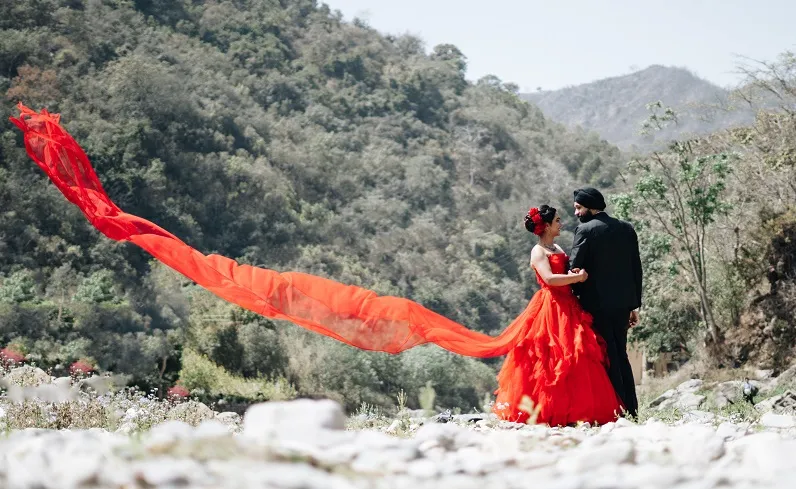 Live your fairy-tale moments
Choose clothes that play with the air and the light, such as chiffon or other translucents in pastels or vibrant hues, to tell a story and create lovely patterns and fanciful frames with your Future Husband. A flared skirt adds movement and fun at the correct angles, as well as a light touch and a refined air. The final images will demonstrate that dreams do come true!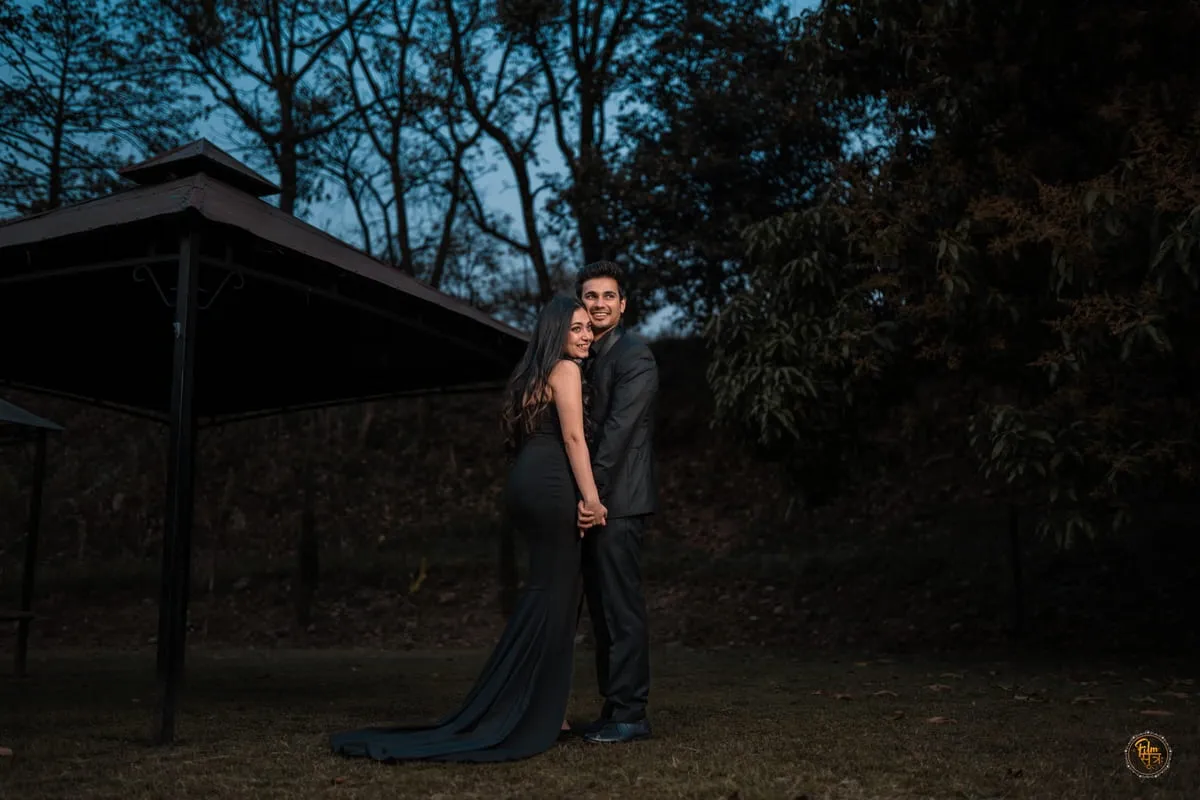 Keep it subtle yet chic in Black
Keeping the palette minimalistic exudes simplicity and elegance. What kind of black do you intend to use? Is it a pearly black that glows? Or maybe some ivory with a sense of vintage? A decadent cream? Or perhaps a snowy, gleaming frost? Consider using lace or a textured scarf, or even a cardigan, to add texture to the photos. Don't forget to add a slight flare of attention with delicate accents, such as turquoise stones or a St Tropez bronze or gold metal. Your companion can complete your look by wearing a white shirt with denim or coloured trousers and a light-coloured casual blazer.

Be as bold as your love is
Bring some vibrancy to your photoshoot. Colours that are bright and saturated definitely flare on camera! You'll stand out magnificently against any backdrop if you wear complementing tones or eye-catching contrasts and can easily be the centre of attention! Add a fresh, quirky atmosphere to your pre-wedding shoot by popping the cork on the colour spectrum.




Dazzle in playful prints
Prints are the talk of the town – traditional and contemporary florals, digital art, animal prints, wacky fruit and map reproductions, stripes, and stars – and you're looking for a standout dress that flatters your physique and reflects your individuality! Make sure your gown isn't so loud that it drowns out your faces and the scenery... You'll have a collection of incredibly dramatic images to look back on if you have your companion wear a solid colour to lend balance to the composition.




An ode to your roots and heritage
Pre-wedding portraits in ethnic attire have the power to be both dramatic and quirky in their own right. Why not choose a beautiful light saree, a lively salwar, or perhaps a lehenga if your desi attire brings out a certain element in your personality? You'll get a swirl of fabric, a print, or a splash of colour, and you'll be able to tell your story with nothing but the perfect twist of 'you'!

These are some points we feel you should consider while deciding on the outfits for your pre-wedding shoot. Just remember to be yourself and everything will fall in its place. So, if you or anyone you know is about to get married, you know who the best wedding photographer and the best cinematographer is in Delhi NCR. Reach to their team at www.thefilmsutra.com or drop them an email at help@thefilmsutra.com